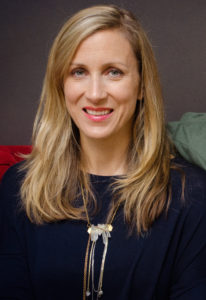 Alison Larmee Born, L.Ac., FABORM
In 1996, I was diagnosed with inflammatory bowel disease, more commonly known as ulcerative colitis and/or Crohn's disease. Over the course of two years I saw three gastroenterologists who told me that diet was not a factor and put me on high doses of steroids and other risk-laden immuno-suppressive drugs. My symptoms would improve but then quickly relapse, and I also had the side effects of mood swings, moon face, and a constant cold or infection. A sympathetic co-worker told me his mother was an acupuncturist and asked if I'd be willing to try it. Though it sounded strange I was at my wit's end and willing to try anything.
Five months later, I had my life back. Not only were her treatments extremely calming and effective, but this was the first health care practitioner who took more than five minutes to talk to me, let alone with a two hours first visit. She advised me extensively on diet and lifestyle, which both needed serious shaping up and were contributing factors to my symptoms. After this initial course of treatment, I went into remission for the first time and even felt well enough to travel and live abroad for a few months.
I continued going back to Oriental Medicine over the next few years for help with various issues, and ended my brief career writing and editing as a "dot comer." Beginning my career shift, I dabbled in a variety of health care settings including a physical therapy practice, yoga studio, water rehab facility, and women's health clinic. Then one day I decided to become part of the solution I had so heavily invested much of my time and curiosity in, and applied to acupuncture school.
From 2002-05 I studied at the AOMA Graduate School of Integrative Medicine in Austin, Texas. During that time I worked at White Crane Herbal Medicine, the herbal pharmacy owned by the school and staffed by its students and graduates. This experience greatly enhanced my herbal competency and confidence. I also learned Zen Shiatsu bodywork, Qi Gong from Master Li Jun Feng, and completed over 1,000 clinical training hours.
I hold a Master's of Science in Oriental Medicine, am accredited by the National Certification Commission for Acupuncture and Oriental Medicine, and licensed by the North Carolina Acupuncture Licensing Board. I have been practicing in Wilmington, North Carolina since early 2006, and opened Cape Fear Community Acupuncture — housing the area's first community clinic – in 2009.
My special areas of interest for private treatment are: male and female infertility, prenatal and antepartum care, hormone balancing, digestive disorders, and pain management. The community clinic is an excellent setting for dealing with chronic or acute pain, addiction recovery, weight loss, allergies, PTSD, TBI,  anxiety and depression.
I am humbled by this ancient medicine, and feel passionately about its place in the modern world. This is why my continuing studies have not only focused on acupuncture techniques and Chinese herbs, but also on integrative medicine. I have witnessed the marriage of the two in healing the most difficult cases.  Highlights of my continuing education over the last 13 yrs include:
Graduate Mentorship Program, White Pine Healing Arts (Sharon Weizenbaum), 2018-present

FABORM, Fellow of the American Board of Oriental Reproductive Medicine, 2016

Integrative Fertility Symposium, 2016 & 2018 – Vancouver, BC

Classes and mentoring with leading oriental medicine fertility experts Ray Rubio, Mike Berkley, Robin Markus, Jane Lyttleton, Lee Rubin-Hullender, Sharon Weizenbaum and Jani White

100+ hour Medical Qi Gong (energy work complementary to acupuncture) certification with Paul Fraser, 2012 – Raleigh, NC

10-day intensive "Sheng Zhen Wuji Yuan Gong" Qi Gong teacher trainings with Master Li Jun Feng, 2011- Baltimore, MY and 2006 – New Zealand

60 hours with David Euler, head instructor for Kiiko Matsumoto's Japanese style of acupuncture, 2006-7 – Baltimore, MY

Sports acupuncture with Whitfield Reaves, 2013 – Wilmington, NC

"Zheng Gu" Tuina (Chinese medical massage) with Tom Bisio and Frank Butler, 2011- NYC

Richard Tan's renowned "

Balance Method

," which we frequently use in the community clinic, 2008 – Wilmington, NC

Testing and treatment of leaky gut syndrome, and herbal patent medicines with Dr. Jake Fratkin, 2009 & 2014, Wilmington, NC
I am honored to have the opportunity to bring my skills and training to bear in both private treatments and in the community clinic, and work with you on improving your health!
HOURS
Monday & Wednesday  | 10am-6pm
Tuesday  | Community Clinic: 9am-12:30pm, Private: 12:30-3pm 
Thursday  | 8:30am-12 pm
Friday  | 8:30am-5pm